Packaged Heating & Air Conditioning
A packaged system combines all of the components of a split system into a single foot print that is either mounted on the roof, or on a slab in the yard. Packaged systems are designed for homes with limited space inside, that do not have room for indoor equipment. Although they offer convenience, they do not typically have the same efficiency.
Types of Packaged Systems
Packaged HVAC systems either come all electric or electric and gas. They also can either cool only, heat and cool or even offer hybrid heating for increased efficiency.
Carrier Packaged System
Trane is an industry leading manufacturer of HVAC equipment, and Giddens has chosen to build our solutions on the solid foundation of Trane equipment, as they align with our commitment to offer our customers the finest in Tallahassee air conditioning solutions!
See below for information on Trane's elite line of Thermostats, or call us at (850) 562-0300 to have all of your questions answered!
Return to products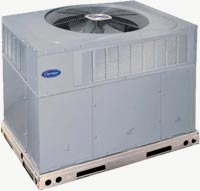 Whether you are enjoying gas heat in the winter or air conditioned cooling in the summer, this Performance system delivers the consistent temperatures and quiet efficiency of two-stage operation.
Offering enhanced summertime dehumidification capabilities along with ENERGY STAR® qualified performance in every model, it is a package system you can truly get comfortable with.